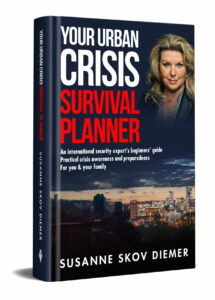 Susanne Skov Diemer is the author of the book 'Your Urban CRISIS SURVIVAL PLANNER'. It is a beginners' guide to practical crisis awareness and preparedness, where she guides readers through scenarios & cases, challenges & opportunities and the 'How's' and 'Why's', the 'Dos & Don'ts'.With fascinating and insightful personal anecdotes, observations, experiences and expertise from decades on the global crisis scene, she takes the readers through crisis processes, human nature and pitfalls.
"The aim of the book is to create crisis awareness, to prepare people and ultimately help them protect themselves and loved ones. As a security specialist, I have a high ethical duty and responsibility to protect humans, information, and property and what better way to do this than by reaching people all over the world with the book. I feel it is my duty and privilege", says Susanne Skov Diemer.
She democratizes and shares important crisis knowledge as her contribution to a broader and better crisis awareness and understanding to prepare, protect – and ultimately – save lives.
It is an eye-opening urban crisis survival guide & planner with worksheets and planner pages that prepares and informs on how to best prepare for a crisis – before, during and after.
The purpose of the book is to prepare for 'if' – or when – we are hit by a cyber attack, physical terror, virus, natural disaster and/or other crisis scenarios.
What is emergency supply storage and why should you have one?
The real reasons you can't expect authorities to save you from all crises.
How can you contribute and be part of the solution and not the problem?
How to set up an emergency plan for you and your family / unit in regards to the most likely case scenarios.
Tips & tricks, dos and don'ts for planning and managing your way through a crisis on a mental and practical level.
The expertise in the book is based on Susanne Skov Diemer´s more than 25 years in the highest security league, working globally with crisis and risk management, intelligence, consulting, risk assessment.
With a global pandemic, attacks on critical infrastructure, flooding and fires, cyber attacks, fuel shortage, among other current crises,
it is time to prepare, to mitigate and to prevent. Time to be more aware to minimize risks.
The book is available on Amazon as hardcover, paperback and Kindle.